If you are using Adobe Acrobat Standard, you've probably noticed that you cannot add document level scripts to PDF documents. This is a limitation of the user interface, Acrobat Standard can actually add such scripts (and document actions), but it requires some JavaScript programming.
I've done that job for you. Download the script addDocumentScripts.js and save it on your local computer.
To install the script, use the information from my post "Acrobat JavaScripts – Where do they go"
Once the file is saved in either the application or the user level JavaScripts directory, you can open a PDF file and select the new menu item "File>Add JS Scripts".
This will bring up the following dialog: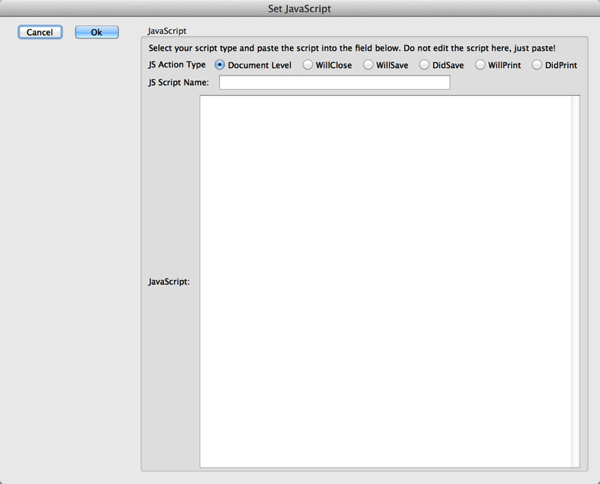 First select what type of script you want to add (the default is "Document Level"):
Document Level Script
Document Action:

Will Close
Will Save
Did Save
Will Print
Did Print
The script name is only necessary for a document level script, the document actions do not require a name (there can only be one per type).
When you fill in the script, make sure you paste from your text editor: Edit the script in an editor and then just paste the final script, do not edit the script in this dialog. The reason for this is that you will not be able to retrieve the script with Acrobat Standard, only Acrobat Pro allows you to do that. This means that any changes you make to your script in the input field on this dialog will be lost – they will be saved in the document, but you will not be able to retrieve or to edit them.
This is not the most elegant way to add scripts to a document, but if all you have is Acrobat Standard, at least you can.