After working on your PDF file for a while, you are ready to save it back to the disk, but Acrobat greets you with an error message: "The document could not be saved. The file may be read-only, or another user may have it open. Please save the document with a different name or in a different folder".

And sure enough, you can save the file under a different name, or using the same name in a different folder. And, you also verified that the file is not read-only. What is going on here?
Let's take a step back: The PDF file format is a binary format, and it's quite complex. To make access to the contents of the file as fast as possible, Acrobat is actually working with the PDF file constantly, it's jumping back and forth in the file and reading information from all over the file in order to display a page. Because of that, Acrobat does not write to a file that is marked as in use by a different application: It could potentially corrupt the data that this other program is trying to read. So, the big question is "What application is having a lock on our file?".
When you look around your desktop, chances are that you will find a Windows Explorer window, in which a preview of your PDF file is being displayed. That's the culprit! In order to generate the preview, Explorer reads the file and keeps it open. If you want to save your file, all you need to do is to disable this preview behavior: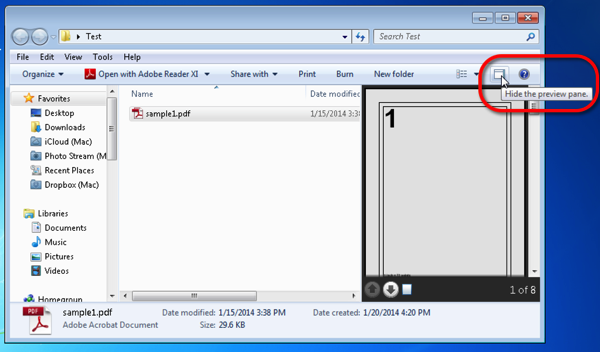 Click on the button indicated in the screen shot and select to "Hide the preview pane". After that, you can save your file without any problems.