One of my more popular blog posts was about splitting PDF pages. I wrote that post five years ago and I am still getting regular feedback and questions.
The original script was written for Acrobat 9, and used the "Documents" menu for it's menu item. Since then, the Acrobat user interface was changed considerably, and there is no longer a "Documents" menu. It's not too complicated to move the menu to the "Edit" menu, but most of my readers don't have JavaScript programming experience, and source code does look a bit intimidating if you don't work with it every day.
In Acrobat X and XI we also have a different method of running the script: We can create an Action using the Action Wizard that takes one or more documents and creates new documents with the split pages. The biggest advantage an Action has is that you can install it by just double-clicking on the SEQU file. The biggest disadvantage of an Action is that it only works for Adobe Acrobat Pro – the Standard version does not support Actions.
So, let's take a second look at the page splitter script and make it easier to install for users of Adobe Acrobat X or XI.
If you have Adobe Acrobat Pro, then use the following links to download the Action file. It will have a .sequ file extension, and when you double-click it, it should ask you if you want to install it in Acrobat.
You can install and run the Acrobat X Action in Acrobat XI, but you will not be able to edit it. The actions will automatically split one or more documents and will save the document with a "-split" added to the original filename in the same directory that the original document is stored in. So, if you have a document named scan.pdf, you will get a new file that is called scan-spit.pdf in the same directory that scan.pdf is stored in. For Acrobat XI Pro users, installing the Action is the easiest way to get access to this functionality.
If you are interested in the updated folder level script, you can download it from here: splitpages.js
This file needs to be installed in one of the two Acrobat JavaScripts directories on your system. See my previous blog post about where folder level JavaScripts have to be stored for more information.
To make things easier, try to install the script in the application level JavaScripts directory. This directory should always be there, whereas the user directory may have to be created by you. Let's assume you are installing the script in Acrobat XI, the JavaScripts directory should exist in one of these two locations on a Windows system:
C:\Program Files\Adobe\Acrobat 11.0\Acrobat\Javascripts
C:\Program Files (x86)\Adobe\Acrobat 11.0\Acrobat\Javascripts
On a Mac, the corresponding directory would be (this is a long path, so you will have to scroll):
/Applications/Adobe Acrobat XI Pro/Adobe Acrobat Pro.app/Contents/Resources/JavaScripts
If you are running Acrobat on Windows, and you don't want to deal with figuring out where to install the scripts, you can use an installer I've created – all it does is trying to figure out where Acrobat's JavaScript directory is, and install the script. Download the installer from here. If you have multiple versions of Acrobat installed, the script will only be installed in one version.
After this script is installed, and you restart Acrobat, you should find a new menu item at the bottom of the "Edit" menu in Acrobat. Differently from the Action, the "Split Pages" function will create a new document, but will not save it. It's the user's responsibility to save this file.
In order to get this folder level script to run, you need to change one setting in Acrobat's Preferences: Bring up the Preferences dialog, then go go the JavaScript category: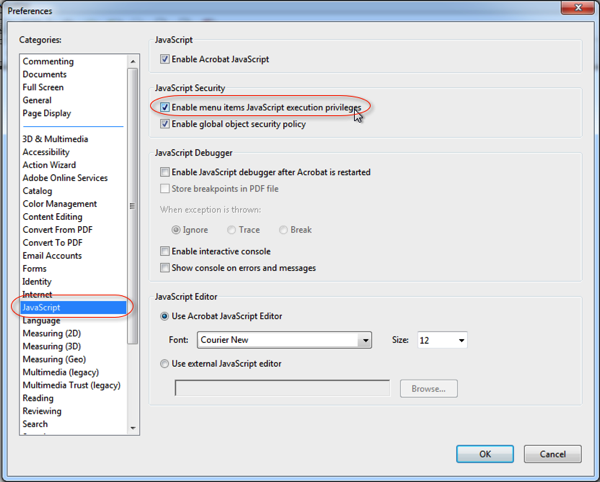 Now enable the settings "Enable menu items JavaScript execution privileges". Without this setting, you will get an internal error when trying to run the function.